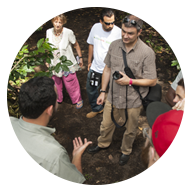 CONNECT
Forge new business partnerships and strengthen existing ones
CUP
Taste exquisite coffees and calibrate as a supply chain
COLLABORATE
Work with industry experts to find solutions to pressing issues
ABOUT LET'S TALK COFFEE®
Let's Talk Coffee® is a global event of exceptional scale and impact. Now in its 13th year, Let's Talk Coffee® brings the Relationship Coffee Model to life with a gathering that brings supply chain partners together in coffee producing countries to discuss pressing issues in the industry, strengthen business relationships, and participate in training workshops and cuppings.
BUILDING A WORLD-CLASS SUPPLY CHAIN
By gathering everyone from producers and roasters to financiers and NGO representatives, Let's Talk Coffee®'s inclusive nature sparks ideas, initiatives, and business relationships that transform the supply chain and define the future of specialty coffee.
Join us at Let's Talk Coffee® as we:
– Forge new business partnerships and strengthen existing ones
– Recognize producer excellence
– Build relationships
– Identify solutions to pressing issues
– Cup exquisite coffees
– Meet producing partners one on one
– Calibrate as a supply chain
– Visit Brazilian coffee farms
Sustainable Harvest is proud to host the Let´s Talk Coffee platform and bring together the Relationship Coffee community around the globe