Uniting the global supply chain in Colombia
On September 20-23 in balmy Cartagena, Colombia, 236 people from throughout the coffee supply chain united for Let's Talk Coffee® Global, the conference bringing together coffee farmers, roasters, NGOs, financiers, and a range of other stakeholders to connect as a supply chain, learn from each other, and strategize solutions to the challenges facing the coffee industry.
The connection provided by Let's Talk Coffee® is perhaps more needed than ever right now, in what is a challenging time for coffee farmers around the world. C-market prices are hovering around $1 a pound, which is far below the cost of production for most farmers. To compound that, the effects of climate change continue to provide additional challenges in coffee-producing communities, from an increase in diseases like coffee leaf rust to fluctuating weather patterns affecting production.
A program focused on 'New Models for Success'
The Let's Talk Coffee® program was packed with three days of content focused on the event's theme 'New Models for Success,' with industry experts sharing their knowledge and attendees engaging in conversations around solutions. The topics discussed at the Let's Talk Coffee® 2018 included:
– Low global coffee prices were perhaps the hottest topic at the event. Albert Scalla of INTL FCStone opened Let's Talk Coffee® with an in-depth look at the current coffee price landscape, stressing the importance of growing global coffee consumption to make the C-market price rise. Another thought-provoking presentation on price came from James Hoffmann—cofounder of U.K.-based roaster Square Mile Coffee—who called for roasters to take on more balanced contracts when buying coffee. "Roasters need to take on more risk," he told the crowd. "… If we're trying to play a long-term game here, where coffee stays diverse and interesting and excellent … then I think we need change."
– The effects of climate change
were tackled by several speakers, including Gabriela Calderón of
OIRSA
, who discussed climate projections and actions farmers can take to protect themselves. One of the conference's most powerful presentations came from the members of Colombia's ASOANEI cooperative, part of the indigenous Arhuaco tribe, who urged the audience to consider their relationship with and impact on the planet. Additionally, a tangible plan to help farmers affected by climate change was introduced when Let's Talk Coffee® organizer
Sustainable Harvest
and the
Inter-American Development Bank
announced
a comprehensive new program in Southern Mexico
to help smallholder farmers increase their profitability and resilience. Development aid organization
Hivos
also released its
2018 Coffee Barometer
, a document examining the social, economic, and environmental challenges the coffee sector is facing and identifying specific issues the supply chain must tackle.
– Innovation in the supply chain was also explored extensively, with several inventive ideas presented. These included evolving financial models featuring the use of blockchain, with Dutch NGO Progreso unveiling its blockchain-backed Beyco trading platform; a mini-conference on natural-process coffees with the Coffee Quality Institute's Mario Fernández sharing knowledge from CQI's Q Processing Program; and the latest technology in coffee brewing and roasting pushing the industry forward.
– Demonstrating leadership amid the challenges in coffee, and communicating about coffee via storytelling were also covered thoroughly. A panel of trailblazing leaders including reigning World Barista Champion Agnieszka Rojewska, Olga Cuellar Gomez of S&D Coffee & Tea, and Colombian coffee farmers Sandra Palacios and Maria Reyes shared theories on the importance of collaboration and shared goals in the face of challenges. Elsewhere in the program, panels covered the power of communicating stories for the betterment of the industry, including a panel moderated by Ted Stachura of Equator Coffees & Teas addressing marketing farmers' coffees in non-exploitative ways. Sustainable Harvest also introduced its new GrowerStories platform allowing producers to share stories from their farms to better connect to coffee roasters.
To check out some of the presentations from the event, head to our LTC Talks page.
View presentations, photos, and media coverage from the event
Cuppings and field trips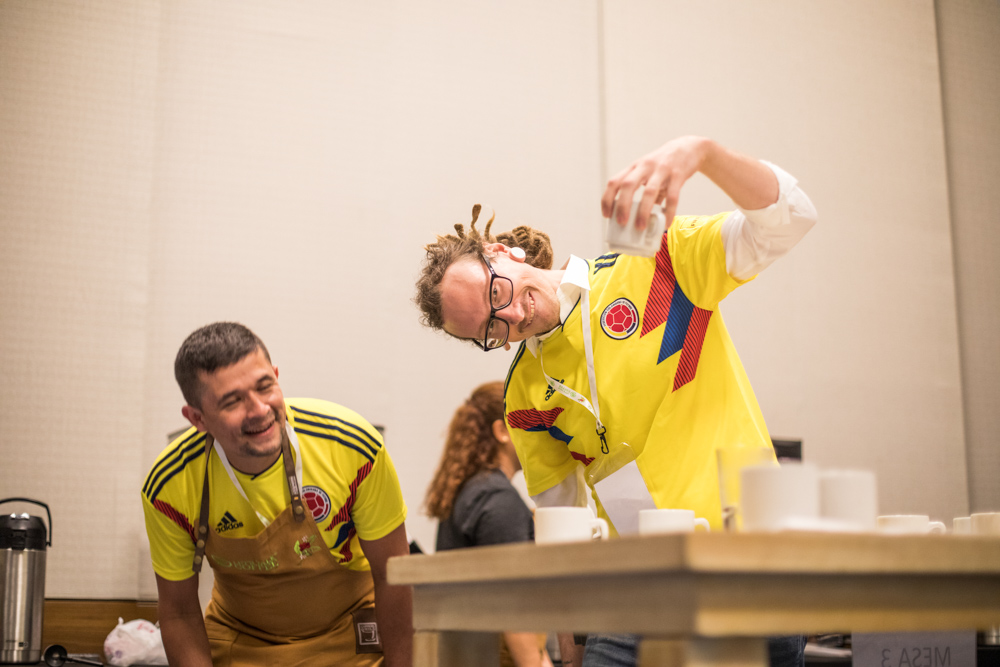 A regular part of every Let's Talk Coffee® event is the cuppings that showcase the latest and greatest coffees from the Relationship Coffee supply chain. This year's event was no different, with stellar coffees from Latin America and East Africa presented for evaluation, often with the coffee's producer taking part. Relationship Coffees were highlighted further through a team triangulation competition that paired roasters and producers to identify the odd coffee out of three cups, helping to foster relationships among supply chain peers.
The Let's Talk Coffee® festivities weren't relegated to the hotel hosting the event: At the end of the three-day program, attendees got a taste of origin through visits to Colombian coffee farms. One field trip headed to Huila, an emerging region that accounts for 16 percent of the country's coffee production, while another traveled to the Sierra Nevada de Santa Marta area to visit the Red Ecolsierra cooperative, a leader in organic coffee production. Still another group of LTC attendees headed to the Popayán area to take part in a Q Processing Course after the event.
Collective action for a better future
One of the differentiators of Let's Talk Coffee® is that it has perhaps the highest representation of coffee producers of any conference—in Colombia, producers accounted for 37 percent of attendees, and played a key role in many program sessions. Ligia López, a producer from Prodecoop in Nicaragua, says Let's Talk Coffee® 2018 gave producers vital knowledge. "We learned about new market trends, product innovations, what consumers are demanding, and strategies to make our businesses grow," Ligia says. "We also tasted coffees from other origins, shared experiences with other producers, and were able to establish commercial relationships face to face."
At Let's Talk Coffee® 2018, producers and other stakeholders didn't just connect and learn together, they also took part in conversations that could lead to positive change in the coffee sphere. To that end, Sustainable Harvest® President Liam Brody posed a challenge to all attendees: At the end of each day, he asked them to write on a Post-In note one action they would take to improve the coffee industry, transforming conversations into definable actions. By the end of the conference, the Post-It notes took up large portions of the hallway, illustrating the tangible difference the supply chain can make when working together.
Want to relive Let's Talk Coffee® 2018? Check out the highlights—including photos, media coverage, and video of the presentations—here.
Also, check out Sustainable Harvest® Chief Coffee Officer Jorge Cuevas' thoughts about our host country, Colombia, and its impressive coffee sector here.
Read Jorge Cuevas' new blog on Colombia: "A Peace Factory"
And please save the date to join us at our next LTC event, Let's Talk Coffee® Rwanda, taking place June 17-19, 2019 in Kigali! We hope to see you there.
---
Join our mailing list and stay up to date on Let's Talk Coffee® news!