Last week, registration opened for Let's Talk Coffee® 2016, taking place in Puerto Vallarta, Mexico, October 13-16. Coffee pros from around the world will flock to this supply chain gathering, in its 13th edition. But before we look forward to the event in Mexico, let's step back to learn more about what makes Let's Talk Coffee® a destination event.
Sustainable Harvest® launched Let's Talk Coffee® in 2003 as a way for stakeholders throughout the coffee industry to share knowledge and build relationships in a relaxed setting. Sustainable Harvest® created the Relationship Coffee Model, and Let's Talk Coffee® was a way to bring that model to life: With the entire supply chain connecting and conducting business built on solid transparent relationships, the event—and the model—could truly thrive.
That first Let's Talk Coffee® drew 60 participants and representatives from five countries in Oaxaca, México. The conference has steadily grown since then, and the most recent Let's Talk Coffee®—in Panama in 2014—was the biggest yet, bringing together more than 550 growers, co-op leaders, financiers, NGOs, roasters and baristas from 32 countries.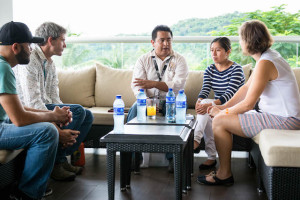 In addition to uniting a diverse group of stakeholders, Let's Talk Coffee® features high-quality presentations from industry thought leaders on pressing issues affecting the industry, and provides a collaborative forum for participants to brainstorm solutions to these issues. Let's Talk Coffee® also offers a chance to recognize producer excellence, cup excellent coffees, and calibrate as a supply chain.
In addition to lectures, workshops, and cupping sessions, Let's Talk Coffee® includes a farm field trip to see how coffee and other agricultural products are grown. This year's event will offer two field trips: One to a coffee farm in Chiapas in southern Mexico, the other to agave fields in Tequila that produce the beloved beverage.
Let's Talk Coffee® has provided an experience like no other for the coffee industry since 2003, offering an inclusive nature that sparks ideas, initiatives, and sustainable business relationships. We're excited to offer another stellar edition in 2016. Click here to register for the event, and we'll see you in Mexico!